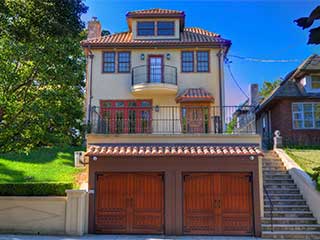 Garage doors can be made out of different materials, each with its own unique advantages and disadvantages. Finding the best one for you can be an arduous process, which can easily exhaust any normal person's patience. Our team will gladly We believe that wood is one of the best choices out there, and we'd like to explain why that is.
It Can Be Beautiful
The number one reason why people get wooden garage door is their renown curb appeal. There's something classicly appealing about doors made from this material, especially when their design can be so diverse. From carriage style to even gothic ornamentation, the possibilities aren't endless, but they are pretty darn vast. Many people are naturally drawn to the appeal a wooden door offers, and if you've been considering selling your home, or simply want to be the envy of your neighborhood, this could be the perfect choice for you.
The Natural Insulation Factor
Wood is one of those materials that is naturally insulating, which means that a door made of this material doesn't need to (although it can) be padded up with additional insulation material. This is a great benefit in monetary terms, as it can save you money in more than one way. For once, you won't have to have your door enhanced, which will cost more, but you will be able to maintain a desired air temperature inside your garage, which will cost you less.
It Can Be Your Canvas
A garage door that is made of wood can be painted to fit a variety of styles. It can be easily decorated for Halloween or Easter, as well as for birthdays and themed parties of any kind. You aren't limited in terms of options, as there are many paint materials that can be excellent for wood application.
Contact Us Today
If you're looking for an excellent new door, but aren't sure what material is going to be the best one for you, then our team at Garage Door Repair Las Vegas can help. We work with all the main brands, such as Clopay and Windsor, and our experts will be more than happy to help you find the perfect door for your garage. Call us today.