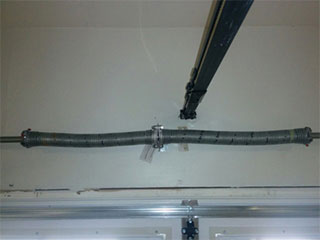 Every part of your system must be in an excellent condition to contribute to the proper movement of the door, but the garage door springs are the real "muscles" who do most of the work, and therefore they need to be in an even better shape.
There's Two of Them
Extension and torsion are the two main types of springs that are most commonly used today, and although they can vary slightly in terms of enhanced durability and flexibility, the major difference between the two is in the way they work. Extension springs extend and contract, as their name implies, in order to both support the weight of your door and provide it with the necessary tension to move it. Torsion springs twist and unwind, utilizing torque as their main method of operation. Because of this, they are considered the safer of the two option, as well as the stronger, and they are usually prefered for heavier doors.
When a Spring Breaks
Taking care of a broken spring can be extremely dangerous, especially without the right tools and the necessary skill and experience. This is true for any component that is under a great deal of stress on a daily basis. Not only that, but a heavy door relies on these components for support, so aside from being hurt by the actual spring when it breaks, another clear and present danger is the door actually collapsing! Our team specializes in performing spring replacement with great care and precision.
Upgrades and Innovations
Although the basic function springs achieve doesn't leave much room to upgrade upon, there are facets of their performance that can be enhanced. Galvanized springs are coated with a special layer of zinc, which protects them from moisture and allows them to resist the appearance o rust for much longer than their regular counterparts. Oil tempered springs are treated through a heating and cooling process which makes them more flexible and durable, and therefore able to sustain a lot more wear and tear.
We Can Help
Whether you're looking to get your springs adjusted or lubricated, or need to have them replaced before (or after) they break, you can count on our team at Garage Door Repair Las Vegas for a fast response and an effective solution. Call us today.
When it comes to your door, we don't settle! We also offer:
Garage Door Tune Up Services
Belt Drive Garage Door Openers
Garage Door Extension Spring Replacement