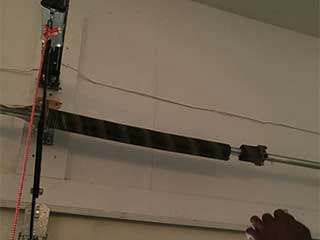 Automatic overhead door systems can suffer from a wide range of problems, both electrical and mechanical. In order to ensure that the potential for malfunction of your system is reduced to the absolute minimum, you need to make sure that it undergoes regular maintenance. This can also end up saving you money in the long run, as it will allow you to avoid a lot of more costly repairs that result from preventable breakdowns.
We'll Check Every Part
The first thing our technicians do during a maintenance appointment is complete a full examination of your system. That means checking everything from the tracks to the opener's circuit board, and tending to any issue that gets discovered right then and there.
We'll Care For The Springs
One of the main things we focus on during these visits is your door springs. We test out their tension and adjust them as necessary, and then we lubricate their coils and operate the door a few times to make sure it gets everywhere. This will help these crucial components last for much longer than they would otherwise, and keep them from straining needlessly. When springs break they can render your entire door inoperable, not to mention dangerous to use, so this type of situation is one that you'll definitely want to do everything in your power to avoid.
We'll Test The Sensors
Another key focus point of our maintenance services is the photo-electric eye sensors your opener uses to detect obstacles. Our team will test their performance and alignment, and reposition them as needed. This is a vital step in ensuring your garage door remains safe to use and isn't posing an unnecessary risk to you and your family members.
Schedule an Appointment Today
Don't take any unnecessary risks. Our experts at Garage Door Repair Las Vegas will be more than happy to answer any questions you may have, and explain all the different benefits regular maintenance can offer you. Call us today.
You can also count on us for:
Garage Door Safety Inspections
Broken Garage Door Track Repair
Emergency Broken Spring Replacement
Genie & Liftmaster Opener Repairs